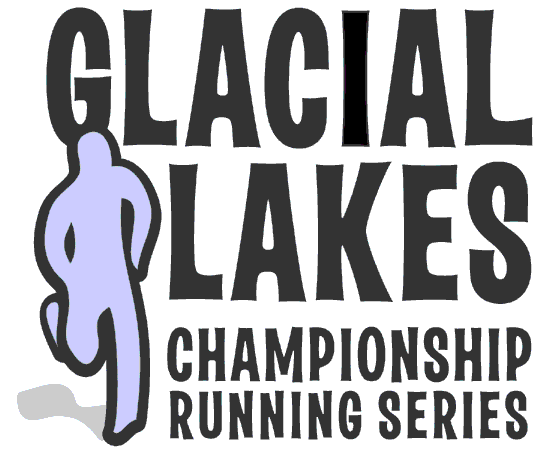 FAQ's / Series Information
Scoring System
This Glacial Lakes Championship Running Series (GLCRS) may consist of 10-12 scored events in a calendar year. GLCRS scoring will include only registered finishers of any GLCRS race. All registered finishers will automatically be placed in the Series Standings by Pickle Events. There is no cost or action needed to be taken by the athlete to participate in this series. An updated list of points will be displayed on this website after each series event. Series Points are awarded based on the following criteria:
Overall winners (male and female) of each event receive 1000 points.
Each athlete earns points based upon the percentage they finish behind the overall male/female winner. For example, if you are a female and your time is 30% slower than the overall female winner, you receive 700 points.
Each athlete's best five scores in series events will be used to score points.
Athletes receive 25 bonus points for participation in their sixth and seventh races of the series (50 maximum points).
There will be up to two "Bonus Points" Races each year. The bonus points race(s) will be listed on the race schedule for that year. Every finisher in either of these races receive 50 "Series Bonus Points" per race (100 maximum points).
Scores are tallied within age divisions for each sex. Runners do not change age divisions during the year. A runners division is set according to their age on the day of their first GLCRS score. For example, if Joe is 49 when he runs in his first series event on June 28, and then turns 50 on July 1st. He will be listed in the 45-49 division for the series standings throughout the year.
Awards
At the end of the year, the top three runners in each Series Age Group (male and female) will receive a Glacial Lakes Series Championship award. To be eligible for an award a runner must finish a minimum of five series races.
Series Points become Official on December 8. Any corrections to the Series Points Standings must be made before December 8 to be eligible for the awards.
Anyone that registers and finishes each event in the series during that calendar year, will win a special "Did'em All" Award.

Race Criteria
To be a part of the Glacial Lakes Championship Running Series, each race must meet the following minimum standards:
All races will be timed.
A reasonably priced entry fee.
On-line registration option must be available and setup 90 days prior to the event.
Race course certification is highly recommended; certified if possible.
Race courses are to be accurately measured and clearly marked.
An adequate number of volunteers available on the course including key corners and intersections (volunteers in safety colors).
Finish line set-up to include: Race clock, clearly marked finish line, and GLCRS logo.
Free refreshments to be available during and after the race for the participants.
New Race Application/Procedures
A limited number of events are a part of the Series. Events interested in being a part of the series must agree to follow all requirements of the Series (click here for Series Standards Document) and complete a Series Application (click here for Series Application) . As openings occur in the Series, the Board of Directors will review all applications to determine which new events will be a part of the next years Glacial Lakes Series. Email Jim Ruff or call (320) 235-1002 if you have other questions about becoming a part of the series.
Contact Us
Email Jim Ruff or call (320) 235-1002 with questions about the Glacial Lakes Series. Questions or corrections regarding the Glacial Lakes Standings should be emailed to Pickle Events.
Series Board
Officers
President — Jay Lawton
Vice President— John O'Neill
Treasurer — Katie Swenson
Secretary — Jay Lawton
Treasurer— Jim Ruff
Recorder— Laura Beier
Board Members
Steve Lueders
Roxanne Lorenz


This site and all contents © 2019 Pickle Events, LLC. Pages developed by Jake Krohn.